A snapshot of Aussie Literary History
Extracts from Marjorie Quinn's poetry and memoirs
'Bill Duckeye' the Opium Smuggler
"… After my parents were married in April 1888, they went to live in Darlinghurst, where I was born in November, 1889. We moved later to McMahons Point probably because so many journalists lived there then. It was handy to the City and a ferry called the Possum used to cater for belated newspaper men, but I don't know how belated they were allowed to be.
I do know that Tom Courtney, father's great friend and a very brilliant writer of editorials, being then on The Daily Telegraph … was sometimes delayed till after midnight and had to rely on a personage at the waterfront, called 'Bill Duckeye' who used to cruise about Circular Quay in a dingy old rowing boat close to where the 'China' boats berthed. Several friends of 'Bill Duckeye' also cruised about in this area and they used to communicate by calling to one another in a code consisting of one word – "quack!" which was answered by "quack! quack!" or a different number of 'quacks' according to the message they wished to convey. They were searching in what were then the dark and quiet harbour waters for corks floating near the ships.
The corks were attached to stout strings on the other end of which were tied tins filled with opium, which had been thrown overboard and were reposing on the bottom of the harbour, the floating corks indicating their whereabouts; and the strings had only to be pulled up like fishing lines and the 'fish' captured. …"
Last verses of a poem by Marjorie Quinn after a friend was killed in World War I:
"To a Young Soldier
A Wildwood sweetness in the air
On winter days when wattle blows,
And sad the heart that grieves for one
Who sleeps where never wattle grows.
Green are the gullies; here the trail
Winds up, that knew his happy tread;
Oh gay with gold the bush, while he
Lies silent, with the peerless dead.
Ah, weep for him! Yet to all grief
A mead of ease the years disclose;
So he, and all his like shall be
Revered, wherever wattle grows."
A Gathering of Australian Authors
"… Ion Idriess, Winifred Birkett, Ethel Turner, HHM Abbott, Dulcie Deamer, Charles Bertie, myself and Frank Dalby Davison (pictured below) were eight authors invited by The Sydney Mail each to write a short story of about 800 words, (from two sentences given us) as part of the celebrations of Book Week. No plot or plan was given us; the idea being to see what different plots, what stories each one of us would evolve from the initial sentences. The stories were different, I remember.
Ethel Turner forsook her child characters and wrote a charming, humorous tale, whereas I contributed a sketch about a death-ray! That was no so difficult to do then, as now. One could gloss over the where, how, and why and just cheerfully announce the fait accompli. After all, who among general readers would quibble? How different now it is with the spate of more or less experienced writers of science fiction.
At the head of the first page in The Sydney Mail, which featured our contributions, was a conglomerate photograph of us, the eight intrepid adventurers into this strange fiction medley. …"
<![if !vml]>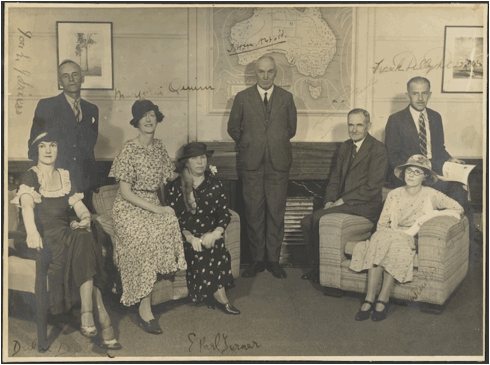 <![endif]>
Henry Lawson and The Bulletin in its 'Heyday'
"… When I was still a child, The Bulletin (housed at the old office in Lower George Street) was to me a sacred shrine. It was old and dusty, but it had an atmosphere of ink and print and poets all mixed up together in my mind! I remember one day my Uncle Rod calling me across the small vestibule to meet his friend, Henry Lawson. I found myself looking up into the most beautiful, expressive brown eyes I had ever seen. Henry took my hand and bowed low over it. He was very courtly. Naturally, I was much impressed, child though I was. It was said that he would drop in to see the editor whenever he felt the urge (which was mostly when he needed some cash). Not that Henry valued money per se, but he was perennially 'broke' because he could not keep it. No editor would refuse help to this brilliant and childlike man with the melancholy eyes and the drooping moustache but editors and publishers alike conspired to keep him short. Otherwise if he were to get his hands on any considerable sum, in no time he would be destitute.
Sometimes Henry would issue into George Street holding a threepenny coin, a 'trey bit' as he called it, and give it to the first 'down-and-outer' whom he met, and there were plenty of them then. It was only a 'trey bit' but it would buy a mug of beer at some waterside pub. …"
"…No one now can realise the influence of The Bulletin as it was then. I was only about ten at the turn of the century. To me it was the supreme arbiter of talent in the literary world. Accustomed to long walks with my father and uncle, listening to their talk of the magical world of literature, I looked on the Bulletin as the hub and centre of this world. Its poets were outstanding, its cartoonists unmatched. 'Hop' was there with his puckish humour, Norman Lindsay with his lush and lavish females, as well as a dozen others. AG Stephens, that doyen of critics, ruled on 'The Red Page'. Above all The Bulletin was an Australian journal, written by Australians, and it always paid for every contribution, whether large or small. …"
Page from one of Marjorie's journals
Parliamentary Committee of Enquiry into Military Affairs
Mr. JCL Fitzpatrick MP, Major General GA French CMG, Mr R Sleath MP, Mr P Quinn MP, Mr RD Meagher MP, Captain Wilkes MP (Reserve List)
Dated 1901 (Private Collection)
<![if !vml]>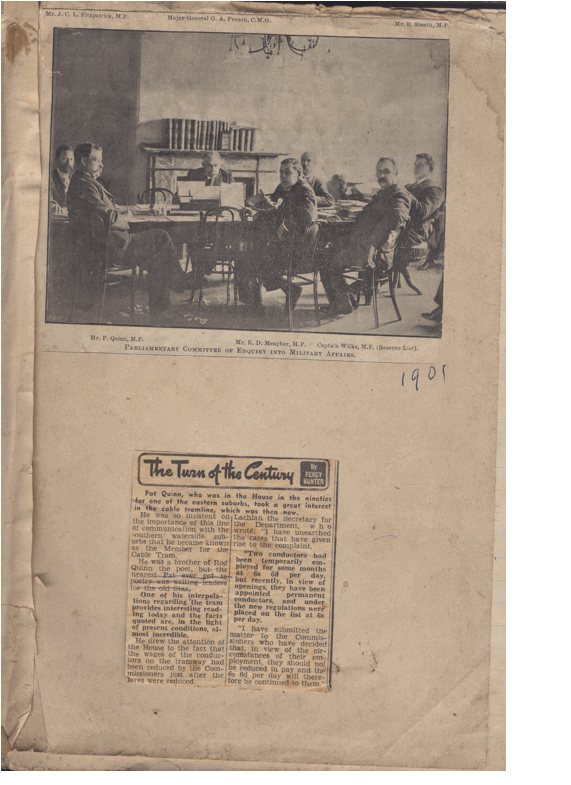 <![endif]>
Handwritten letter to the Fellowship of Australian Writers from Roderic Quinn regarding the 'Lawson Stamp' (Photocopy)
<![if !vml]>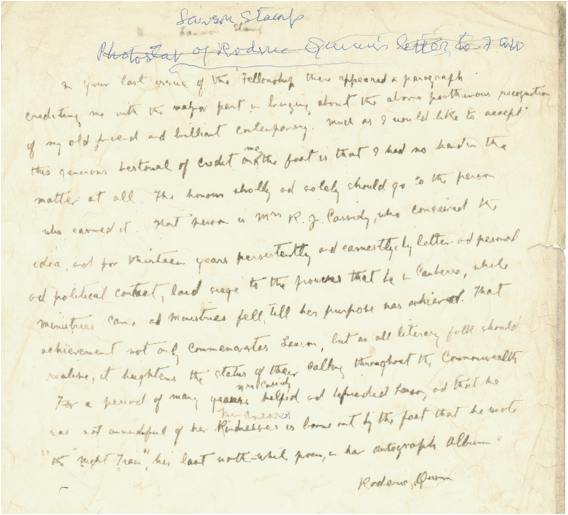 <![endif]>
In your last issue of the Fellowship there appeared a paragraph crediting me with the major part in bringing about the above posthumous recognition of my old friend and brilliant contemporary. Much as I would like to accept this generous bestowal of credit on me, the fact is that I had no hand in the matter at all. The honour wholly and solely should go to the person who earned it.
That person is Mrs RJ Cassidy, who conceived the idea, and for thirteen years persistently and earnestly by letter and personal and political contact, laid siege to the powers that be in Canberra, while ministries came and ministries fell, till her purpose was achieved. That achievement not only commemorates Lawson, but as all literary folk should realise, it brightens the status of their calling throughout the Commonwealth.
For a period of many years Mrs Cassidy helped and befriended Lawson, and that he was not unmindful of her kindnesses is borne out by the fact that he wrote "The Night Train", his last worth-while poem, in her autograph album.
Roderic Quinn. (Private Collection)
Member Notification of FAW Meeting 21st February, 1934 (Private Collection)
<![if !vml]>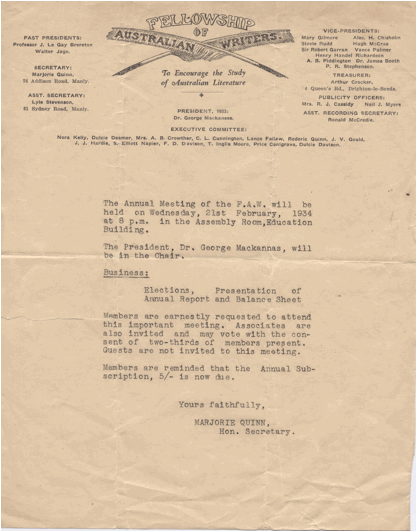 <![endif]>
Letter from Walter Stone (Book Collector's Society of Australia) dated 25th October, 1958 (Private Collection)
<![if !vml]>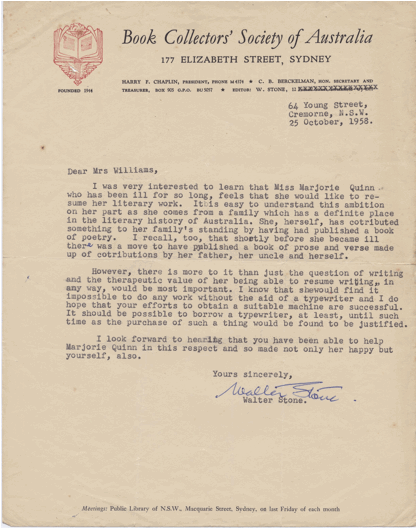 <![endif]>
Letter from National Librarian – National Library of Australia, 22nd August 1967. (Private Collection)
<![if !vml]>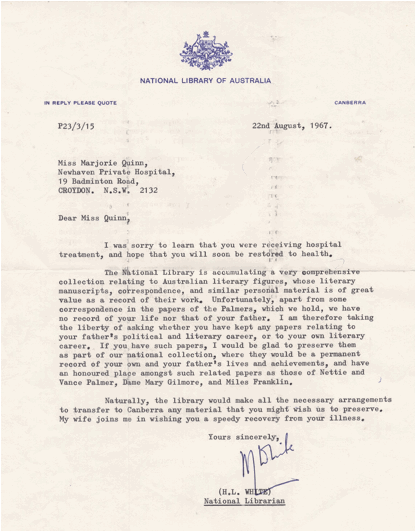 <![endif]>
Handwritten letter from Nora Kelly
<![if !vml]>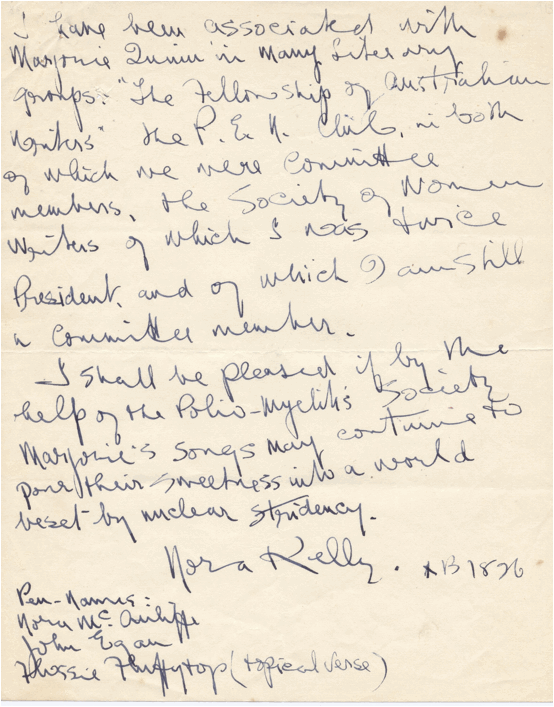 <![endif]>
Dear Mrs Williams,
I am only too pleased and feel privileged to add a laurel to the poetic crown of the Quinn family.
I have known Miss Marjorie Quinn for many years as a writer of short stories and good poems.
As a woman writer of the Bulletin Woman's Letter for many years I can speak at first hand of the esteem in which her work was regarded by that paper.
Last year I had pleasure in writing an appreciation of her book of poems Candlelight for the Australian Messenger, a Melbourne monthly magazine.
I have been associated with Marjorie Quinn in many literary groups. The Fellowship of Australian Writers, the P.E.N. Club in both of which we were committee members, the Society of Women Writers of which I was twice President and of which I am still a committee member.
I shall be pleased if by the help of the Polio-Myelitis Society Marjorie's songs may continue to pour their sweetness into a world beset by nuclear stridency.
Nora Kelly XB1826
Pen-names:
Nora McAuliffe
John Egan
Flossy Fluffytop (topical verse)
Letter from Prime Minister's Department, Commonwealth Literary Fund. Dated 6th July 1964. (Private Collection)
<![if !vml]>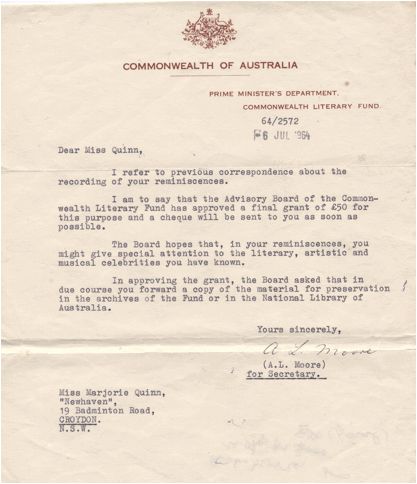 <![endif]>
Newspaper clipping dated January 9th 1929 (Private Collection)
<![if !vml]>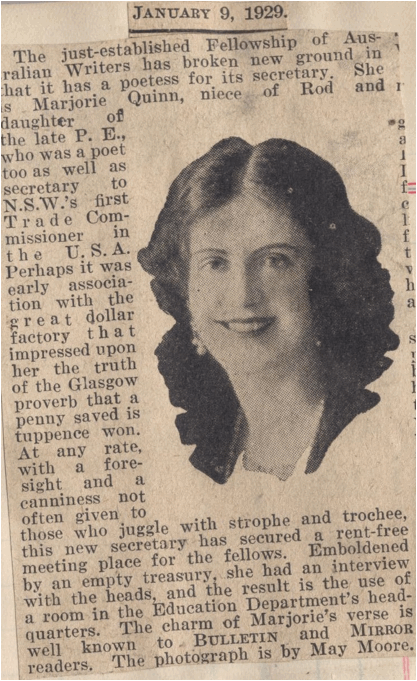 <![endif]>
Newspaper article written by Marjorie Quinn – unknown publication dated March 7th, 1940 (Private Collection)
<![if !vml]>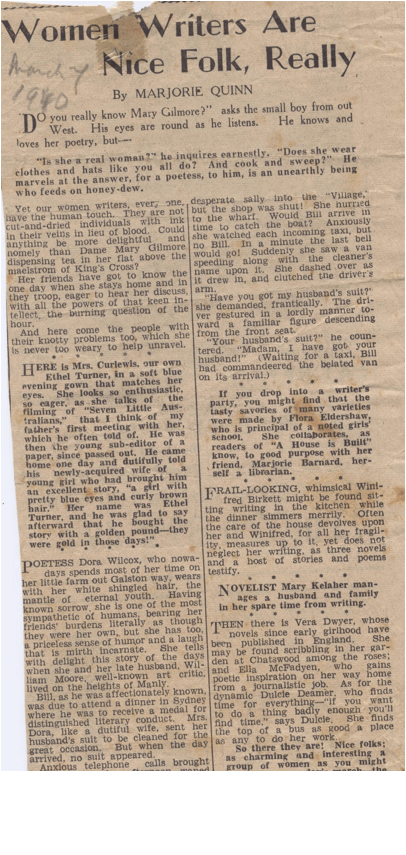 <![endif]>
Handwritten letter of reference from Lucy Cassidy
<![if !vml]>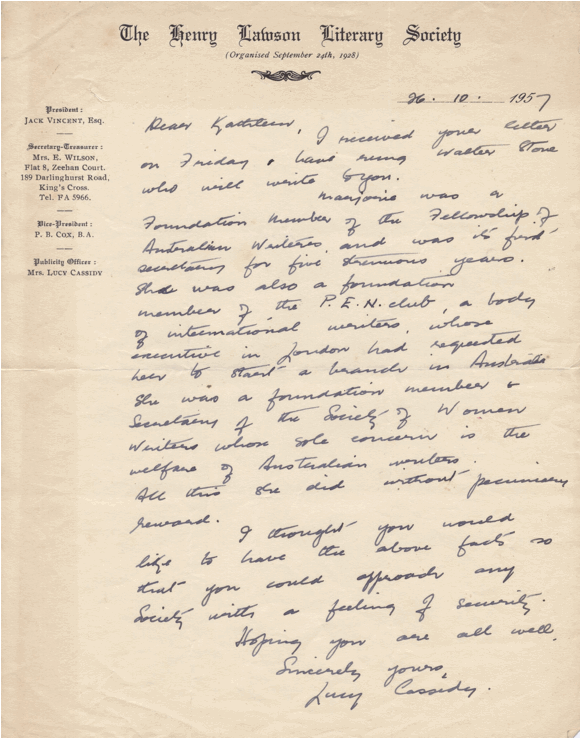 <![endif]>
26.10.1957
Dear Kathleen,
I received your letter on Friday and have rung Walter Stone who will write to you.
Marjorie was a Foundation member of the Fellowship of Australian Writers and was its first secretary for five strenuous years. She was also a foundation member of the P.E.N. club, a body of international writers, whose executive in London had requested her to start a branch in Australia.
She was a foundation member and secretary of the Society of Women Writers whose sole concern is the welfare of Australian writers. All this she did without pecuniary reward.
I thought you would like to have the above facts so that you could approach any society with a feeling of security.
Hoping you are all well,
Sincerely yours,
Lucy Cassidy
Photo – Patrick Edward Quinn circa 1905 (Private Collection)
<![if !vml]>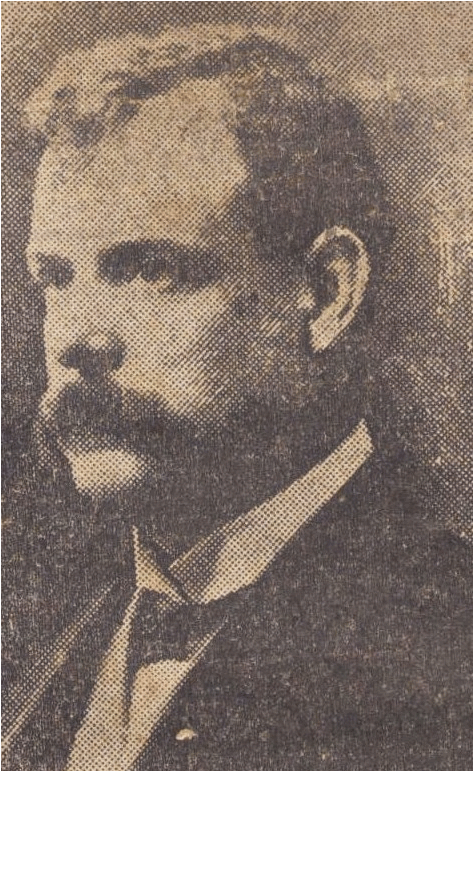 <![endif]>
Photo – Roderic Quinn 1949 (Private Collection)
<![if !vml]>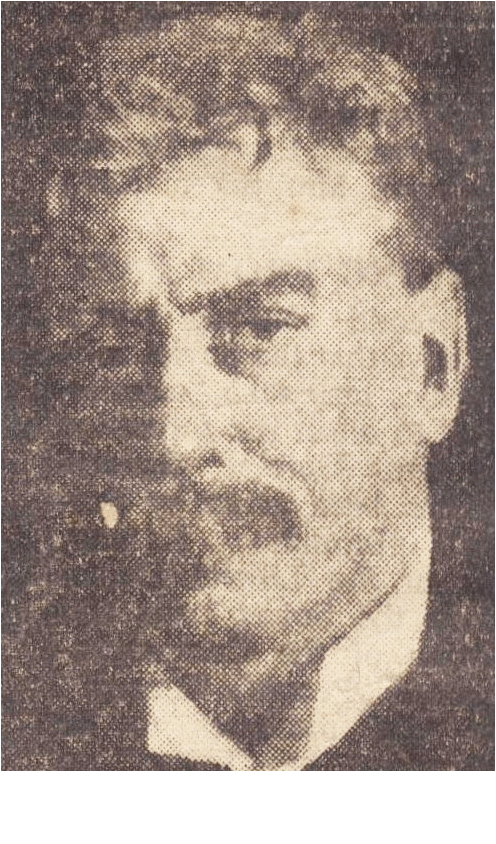 <![endif]>